The Priorat wine region is situated in Spain, Catalonia, 40 km from the originally roman city Tarragona and only 2 hours from Barcelona.
It is a breath-taking landscape of magnificent beauty.
There has always been wines in the Priorat region, but it is only in the late 80s that a group of young wine pioneers, among them Antoni Basté, started elaborating new, bottled wines, thus giving the region an economical rebirth.
The extremely poor and schistose soil, combined with the typical hot and dry Mediterranean climate give the Priorat wines its unique quality and taste. The wineyards are planted on abrupt hills, at 400 to 600 meters above the sea, and the combination of hot summer days with cold nights creates perfect conditions for the wines, giving them a good minerality, fruity and round tannins and the ability to age for more than 20 years.
The great quality of the wines have confered the region the prestigious appelation «Denominación de Origen Qualificada», the only one in Spain along with La Rioja.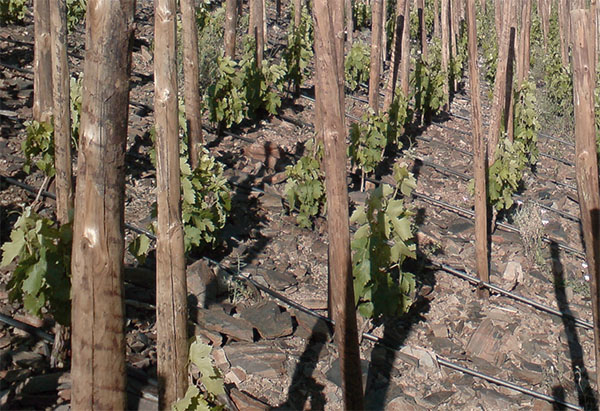 The typical schistose soil of the Priorat

The vineyard of Celler de L'Abadia
Celler de L'Abadia has a spectacular vineyard, situated between Gratallops – cradle of the Priorat designation – and El Lloar, overlooking the Montsant valley.
The logo of Celler de L'Abadia is the drawing of our vineyard created by Jim Basté.
The situation of the vineyard, in the very heart of the Priorat, gave our wines the special designation "Vi de vila" (wine of village), more severely regulated and delivered by the DOQ Priorat since 2007.
Our wines grow on the typical Priorat terraced, schistose soil that makes the wines so unique.
It extends from Gratallops down to the Abadia stream bed, sitting on abrupt hills that show a difference of altitude of around 60 meters.
Altogether  we are growing more
than  35'000 vines on the vineyard.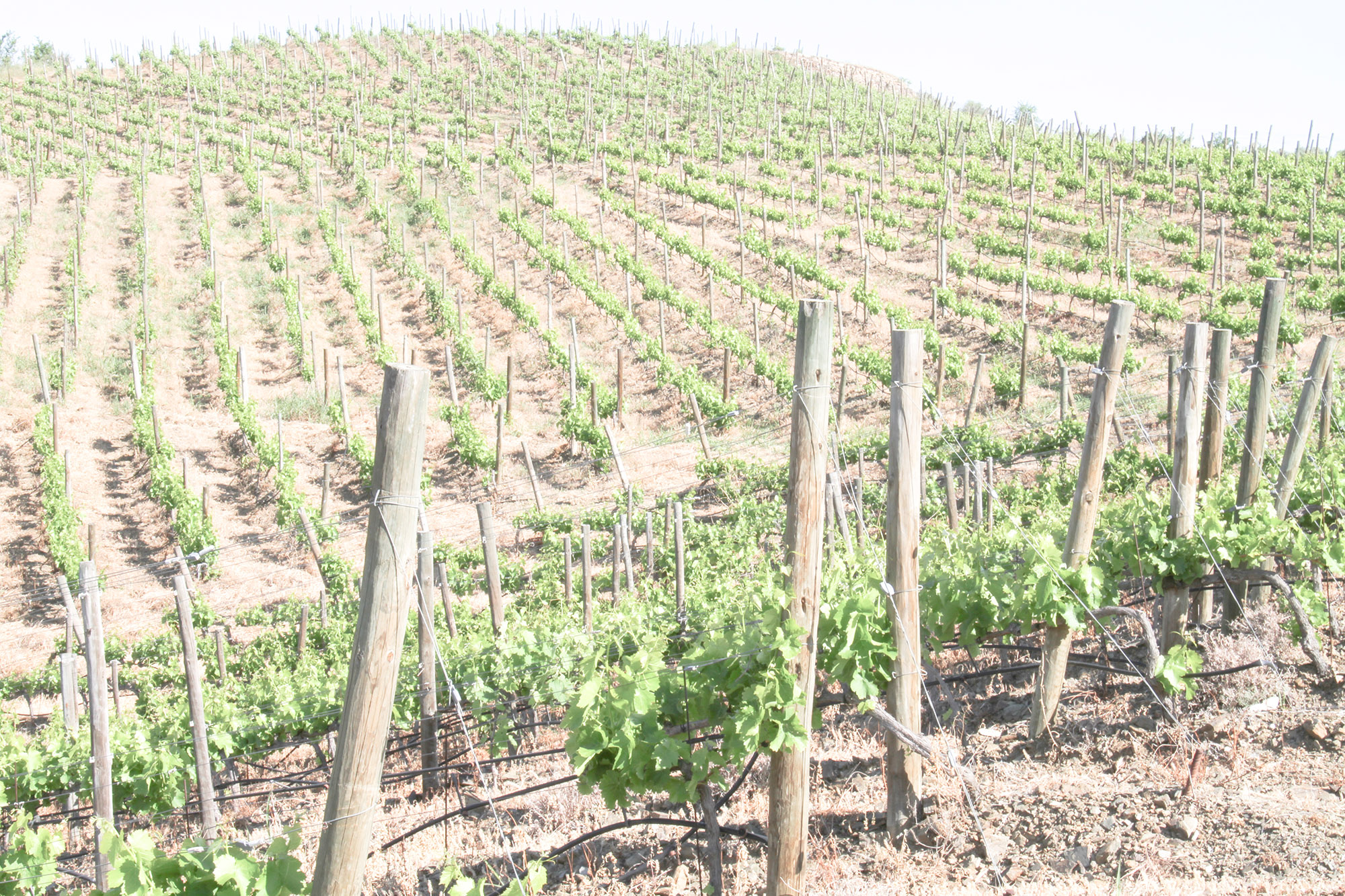 The vineyard of Celler de L'Abadia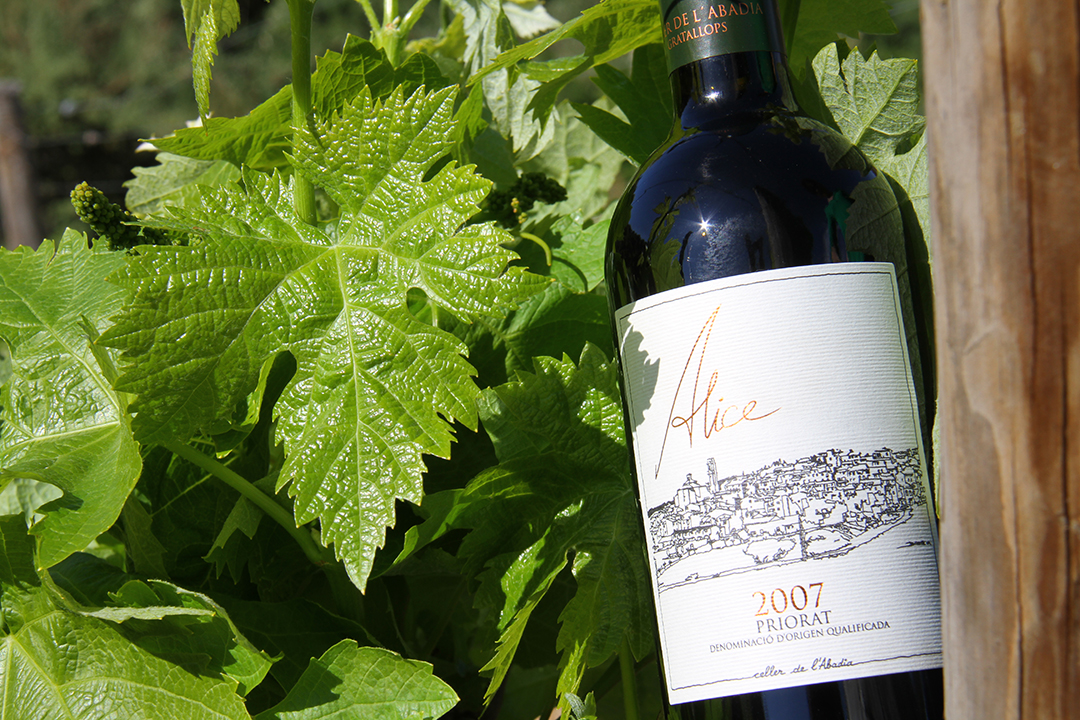 In the most exposed part of the vineyard, we grow the varieties of Grenache, Carignan, Syrah and Cabernet Sauvignon, which are basis for the wines Sant Jeroni Garnatxa de l'Hort, Sant Jeroni Carinyena del Forn, Alice and Clos Clara.
In the northern, cooler area we grow the varieties Pedro Ximenez, Viognier and Roussane that are basis for the wine Sant Jeroni Pedro Ximenez Blanc de L'Aubada.
Approximately 50 olive trees that are more than 300 years old contribute to the production of the delicious Celler de L'Abadia Olive Oil.
We work almost exclusively manually and with a minimum intervention philosophy, that is without chemical products.
The ploughing is made with a little Italian tractor and the rest of the work is manual.
We have built a storage store for the wines that guarantees the optimum preservation conditions along with flawless logistics (movements of the wines, etc.).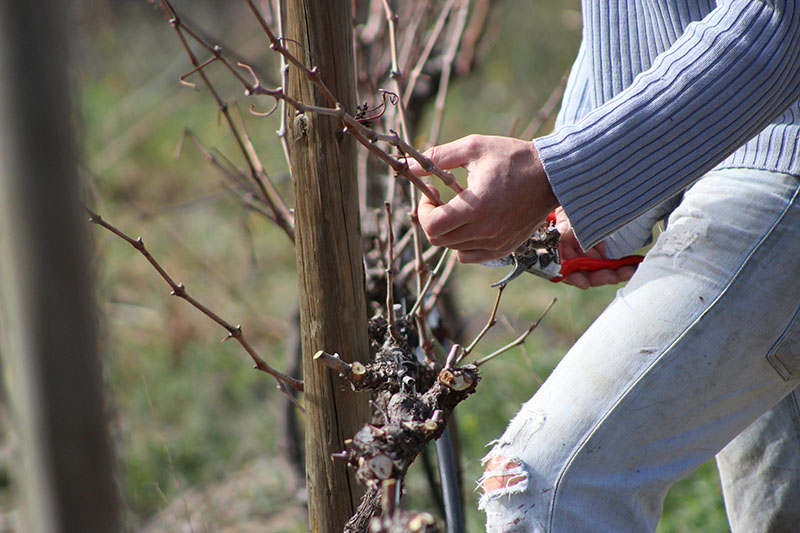 Jeroni Basté during the pruning, 2015